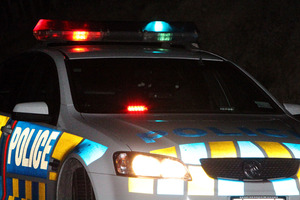 The teenager killed in a crash following a police pursuit in Christchurch on Friday has been named by police.
Ethan Dallas Takitimu-McKenzie, 15, died when the stolen car he was a passenger in crashed on Dyers Rd shortly after midnight.
Christchurch City Commander Superintendent Andy McGregor said the vehicle, carrying four occupants, had earlier been reported stolen.
A police dog handler went to stop the vehicle, which drove off at speed through New Brighton and Linwood. The officer started a pursuit with his lights and siren going.
"Despite the officer's attempts to get the offending vehicle to stop, it carried on at speed through a 50km/h area, and on the wrong side of the road, before the pursuit was abandoned after about three-to-four minutes," Mr McGregor said.
The vehicle was estimated to have reached speeds of up to 90km/h in a 50 km/h zone.
The vehicle later crashed after failing to take a series of bends near sewerage ponds in Dyers Rd, Linwood.
The driver fled the scene and Takitimu-McKenzie died a short time later.
The alleged driver, a 25-year-old Christchurch man, reappeared in in the Christchurch District Court today on charges of careless driving causing death and theft of a motor vehicle.
He also appeared on charges of aggravated robbery relating to an incident on Thursday night in which another motor vehicle, a trailer and a motorbike were stolen from a recreational area on the north bank of the Waimakariri River.
He has been remanded in custody until March 4.
- nzherald.co.nz