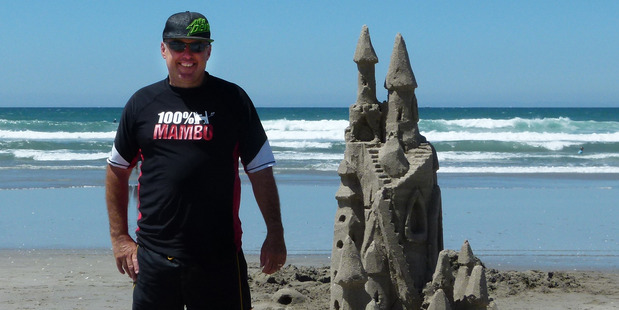 There are no ocean beaches in Cambridge, but it hasn't stopped a man from the Waikato town from winning the Hyundai-Herald on Sunday sand sculpting competition.
Brett Muir's Middle Earth-inspired castle, built over five hours at Omanu Beach at Mt Maunganui, has won him the use of a Hyundai Santa Fe for a year.
Selected by popular vote, Muir's castle was more than 2m tall and extremely intricate.
He said the use of the diesel vehicle could not have been better timed. "We recently inherited an 18ft (5.48m) caravan and were in the market for a 4WD SUV. The sand castle was a real team effort by our family and we are stoked to have won."
Fiona Grant, from Auckland, one of 1,500 people to vote in the competition, was drawn as the winner of a Santa Fe for a month.
Andy Sinclair, general manager of Hyundai New Zealand, said more than 140 sand sculptures were entered.
"It has been great to see everyone around the country enjoying this great Kiwi pastime and creating these masterpieces," he said.