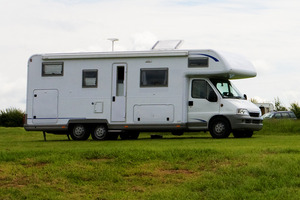 If I could get my hands on these people stealing caravans, I wouldn't be able to control myself.

I'd launch at them and savage them with ... hugs.

Yes sir, I'd kiss the living daylights out of them. They are doing what I've wanted to do for years.

I've often dreamed of forming a secret gang of vigilante motorists, clearing the roads of caravans and restoring peace and order to New Zealand highways.
The "Great Caravan Cull" is something I'd gladly get behind.
We all know you don't want to get behind an actual caravan on the road; holding us to ransom; dribbling along at 12km/h; swerving their big bottoms left to right; blocking the view.
I can't tell you how many summer road trips have ended with me sick and sweaty - spitting insults at the selfish road lump in front of us.
So whoever you are out there, stealing caravans: stand strong, be proud, and know you are doing right in the world.
Hi everyone, glad you're reading Jaquie's new Herald on Sunday slot.
It is satire, in case some hadn't realised. She's not actually advocating caravan carnage.

Bryce Johns, Editor, Herald on Sunday