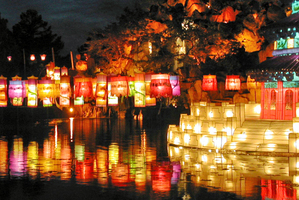 Snakes will be in Auckland to illuminate one of its central parks as part of the city's Chinese New Year festivities this year.
A 6m-long specially-designed lantern based on the Chinese legend of Lady White Snake, featuring two weaving green and white snakes, will be the Auckland Lantern Festival's feature exhibit to commemorate the Year of the Snake.
The lantern depicts an ancient Chinese fable about a white snake and green snake fairy who take the form of two beautiful young women, and the complications they encounter after Lady White Snake falls in love with a human.
"We thought since there are no snakes in New Zealand, it would be nice to celebrate the Year of the Snake with the legend, which would also mean we could tell people about a famous Chinese story at the same time," said festival organiser Jennifer King, who is also Asia New Zealand Foundation's culture director.
Ms King said the lanterns for this year's festival had been made by Chinese traditional lantern makers Zigong in Sichuan, and had "travelled a long way" to transform Albert Park into an explosion of lights and colours.
"The lanterns were taken by road to Chongqing on the Yangtze River where they were loaded into container, and travelled by barge to Shanghai," she said.
"From Shanghai, they were loaded onto one 20ft and another 40ft container, for the journey to Auckland."
The festival started on Thursday night with a lantern-only night, but was officially opened last night with booming firecrackers.
Big-name Chinese musical groups, including award winning folk and rock band Omnipotent Youth Society, and all-female classical music ensemble Beauty and Melody, are among the entertainers brought in for this year's festival.
There will also be screenings of Chinese movies on the waterfront, and lantern presence along Queen Street, the Sky Tower and Khartoum Place.
Organisers expect about 100,000 people to enjoy the lanterns, street stalls and the entertainment over the three nights that the festival is on.
Also known as the yuanxiao festival, the lantern festival is celebrated on the 15th day of the first month of the lunar calendar, to mark the end of the Chinese New Year festivities.
Some people also regard yuanxiao as the Chinese Valentine's Day.
For the first time since the festival started 14 years ago, fireworks will also be launched from the Sky Tower tomorrow to close the festival.

What's in store at the lantern festival
Lanterns: Hundreds of lanterns, with the feature display "Legend of the White Snake".
Entertainment: Top Chinese groups Omnipotent Youth Society and Beauty and Melody, and local acts including lion dancing and cultural performances
Food: festive street bazaar with hundreds of stalls selling Asian delicacies, decorative items and more
When: Until tomorrow 10pm
Where: Albert Park, Auckland