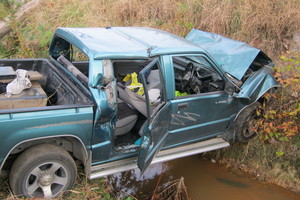 A man who crashed his ute on the outskirts of Hamilton this morning could have been trapped for hours if a witness hadn't seen the vehicle career across a paddock and into a creek.
Emergency services were called to the settlement of Temple View about 6.30am after a motorist saw the vehicle in front of them plough through a fence and out of sight.
"The utility the motorist was following suddenly left the road, crashed through a fence before travelling over 300 metres across a paddock and crashing through another fence before coming to rest in a drain," said Sergeant Phil Ruddell.
"Given the slope and the fact the utility came to rest in the drain below the paddock, had the witness not seen the crash it's likely the injured 28-year-old driver would have remain unseen and unaccounted for, for several hours."
Firefighters had to use cutting equipment to free the man, who was transported to hospital with moderate injuries.
"Initial indications suggest fatigue was a major factor in what caused the crash," said Mr Ruddell.
Given the ute couldn't be seen from the road, police believe the driver could have been in the vehicle trapped for hours, unnoticed.
"This highlights the need for motorists to drive to survive and if you're tired you need to pull over and have a rest. If you don't, it's not just your life you're putting at risk but the lives of other drivers as well."
- nzherald.co.nz