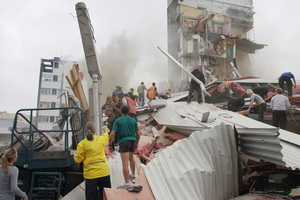 Police and volunteers work to rescue people trapped in the collapsed CTV building on 22 February, 2011. Photo / Geoff Sloan
Today marks the second anniversary of the Christchurch earthquake of February 22, 2011. The disaster, which struck near the end of a busy lunch hour, claimed 185 lives and changed the face of the nation's second most populated city.
We'll be bringing you the latest updates and comments on this day of remembrance.
Follow our updates below: