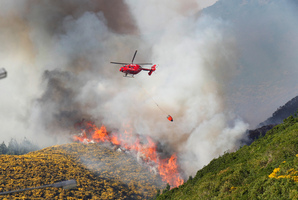 The scrub fire which raged in Happy Valley overnight is being treated as suspicious until the cause is known, fire services say.
The overnight fire covered about 50ha in Happy Valley, close to the city's landfill, endangering up to 30 houses and forcing the evacuation of up to 70 residents today.
It flared up again late this morning, but has now mostly under control.
A fire spokesman said this afternoon that the fire was being treated as suspicious until investigators find out what caused it.
"At this stage it's unknown what actually caused it but it's unlikely that it was a natural occurrence," he said.
"On the balance of probabilities it's unlikely that it was natural causes."
A fire investigator would be onsite for an initial survey in the next hour and from there, fire services would be able to make a "definitive statement" about what caused it, he said.
- nzherald.co.nz