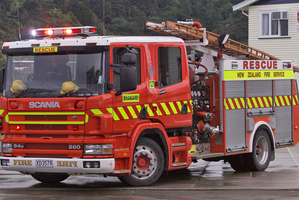 Witnesses are being asked to come forward following a series of suspicious rural fires west of Hamilton early this morning.
Emergency services were first called to a blaze at a property on Old Mountain Rd near Te Pahu about 3.30am.
"A local man woke around this time and noticed the light from a fire several kilometres up the road," said Senior Sergeant Dave Simes.
"Driving to investigate, the man confirmed the light was from a fire, and called 111."
On arrival, firefighters noticed five separate blazes burning along the left side of Old Mountain Rd, all within six kilometres of the intersection with Te Pahu Rd.
"The first fire was about 2.75km from Te Pahu Rd and engulfed about 500 metres of scrub along the roadside and destroyed 200 metres of fencing belonging to one farm property.
The second blaze was two kilometres further along the road and burnt about 42 metres of long grass on the roadside," Senior Sergeant Simes said.
A third fire burned up a steep ridge where it had travelled under the green foliage and towards drier scrub, forcing firefighters to clamber up the embankment.
Two other fires were burning nearby.
It took fire services several hours to extinguish the hot spots and cut down trees to prevent more outbreaks.
"This morning's incident is particularly concerning for Police, the Fire Service and Rural Fire authorities because, with the hot dry weather we're experiencing right now, each fire has the potential to cause not only a great deal of damage to the bush and buildings but threaten people's lives as well," Senior Sergeant Simes said.
Police are asking anyone with information to contact Te Awamutu Police on (07) 872 0100 or call Crimestoppers anonymously on 0800 555 111.
- nzherald.co.nz