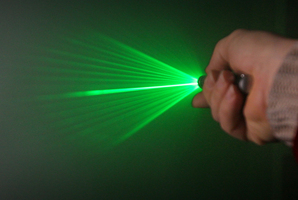 Sentencing has been postponed for two men convicted for repeatedly shining a high-powered laser at a police helicopter.
Joshua O'Hare-Knight, 21, and James Spiers, 19, were found guilty by a jury in November of causing unnecessary danger to an aircraft.
The offence, under the Civil Aviation Act, carries a maximum sentence of 12 months in prison.
The men were due to be sentenced in Auckland District Court today but because submissions, including probation reports, had not been filed in time it was delayed until March.
Judge Nevin Dawson said it was a situation he did not want to see again.
During their jury trial, the court was told the pair took turns pointing the laser at the police Eagle helicopter about 11pm on May 7, 2011, while they were at an 18th birthday party in Auckland's Mt Albert.
Crown prosecutor Asishna Prasad said at the time their actions had put the three-man crew in danger.
"The crew of a helicopter can't afford to be distracted when they are airborne because their ability to carry out their duties is compromised. They would have been unable to identify hazards in that airborn environment," she said.
One crew member, Sergeant Al Grant, told the court the laser had impaired his vision.
"For a few seconds it filled the cockpit of the aircraft with a strong green light."
The crew pinpointed the house where the laser came from and police on the ground arrested the pair.
- APNZ