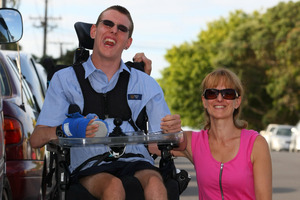 The Ministry of Education says it will work with its taxi companies to ensure no special needs child is stranded without a lift to or from school.
Some students have been either picked up late or not at all after a change in taxi companies used by the Government.
Taxis for some special needs students were funded by the Ministry of Education. At the end of last year, Alert Taxi Group won the tender for central Auckland, North Shore, Tauranga and Whangarei, beating previous provider Auckland Co-Op Taxis.
Alert had subcontracted out many of the school jobs to other taxi companies, but since the start of the school year many taxis had either arrived late or did not arrive at all.
Ministry of Education's group manager John Clark said they had met with some schools who had expressed concerns about issues that had arisen from the change in providers.
He said taxi services were required to collect and deliver all eligible students to their destination according to the terms of their contract with the ministry.
"The Ministry's role is to ensure providers meet the requirements. Where they do not, it will investigate, and if there is evidence of operators failing to meet contractual obligations the ministry will step in to ensure they do."
Mr Clark said it was not acceptable that some providers had not delivered students to school as they should have done, but he was confident any issues would be resolved.
Staff from Mt Roskill Grammar School's MacLean Centre were forced to drive two students home hours after school because a taxi did not arrive. Teachers calling to find out about taxis have been put on hold for 30 minutes before being disconnected.
"Our kids need relationships with their taxi drivers. We, as staff, are responsible for children who are both challenged and vulnerable - we need relationships with taxi drivers as well," said Janice Whitaker-Hall, head of department at the centre.
"I don't know anything about the decision-making around the tendering. I think that's a question to be asked ... around the decision to change completely a system that was working quite effectively."
Marise Davies, mother of 14-year-old Harrison, said taxis were still arriving late to take her son to and from the centre.
Mrs Davies, who is an occupational therapist at the Auckland Physical Disability Service, said the late arrivals had created major stress. Drivers did not apologise or show any inclination to form a relationship with Harrison.
She said while changing the tender might have saved money, it cut off crucial relationships.