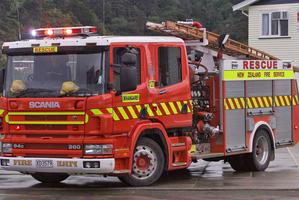 A scrub fire north of Auckland has grown six times in size over the course of today.
The blaze at Tapora, west of Wellsford has been raging since late last night and some fire fighters have been battling the blaze for 12 hours.
Two helicopters and around a dozen appliances are at the scene battling the fire.
Northern Fire Communications shift manager, Jaron Philips said parts of the fire which now covers 65 hectares, have been contained.
"That northern side of the fire has been isolated, but the southern flank of the fire is still being worked on," said Mr Philips.
"There's both ground crews and helicopters with monsoon buckets working on that."
Mr Philips said the easterly wind has picked up since the morning.