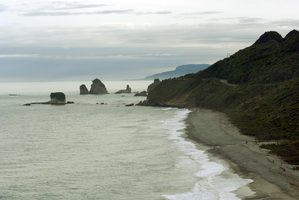 The couple running the Buller District Council's Punakaiki Beach Camp have resigned, saying they're sick of battling with 'parasite' freedom campers.
Linda and Ross Eddy said the Department of Conservation's (DOC's) nearby Porarari River car park free camp, which opened in December, had made their position untenable.
They said the free camp took business away from the council camp and freedom campers with no self-contained facilities continually tried to freeload at the council camp. Petty theft had increased.
Mrs Eddy said the last straw was an email last week from council's chief executive Paul Wylie ordering her and her husband to stop conducting "patrols" of the DOC car park.
Both she and her husband said they had only monitored the free camp to protect council's business.
Mr Eddy said they could no longer cope with the free camp, the type of people it attracted, and the threat they posed to the council's business.
"It's been our job to protect the campground, the business and the rights of the paying guests. That's all we have done. We are not the villains.
"These free camp areas will always attract the parasites, and that's what they are. They are not prepared to pay anything."
He said that over the Christmas period he and his wife had photographed 57 freedom camping vehicles breaching DOC's rule that campers must be self-contained. DOC had issued about 10 infringement notices during that time.
The Eddys will leave after their current contract expires on May 23. They had previously agreed to continue on a three-month rolling contract while council decided the beach camp's future.
They have run camps for 35 years, including 13 years at Punakaiki.
Mr Wylie told The Westport News he had asked the Eddys to stop patrolling the free camp - over which they had no jurisdiction - after complaints from DOC.
The council appreciated the Eddys' diligent service as camp managers and wished them the best in their retirement.
The council was seeking new temporary managers to take over after they left.