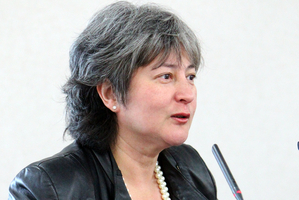 British High Commissioner Vicki Treadell was in such a hurry to get to yesterday's Great British Car Rally that she was ticketed for her enthusiasm.
Although not revealing the speed at which she was clocked, she confessed to a street audience of several hundred people on Napier's Marine Parade, where 180 had parked at the end of the rally's day trip from Gisborne.
It was an $80 ticket, but it wasn't the only one for rallyists on day three of the week-long rally from Auckland to Christchurch.
"I know who you are," she said, revealing two other tickets had been issued by highway patrols as the rally headed to Hawkes Bay, and challenging them to match her commitment to pay the fine in the morning and then make a like donation to each of the four charities benefiting from the jaunt.
Moments later Waikanae man Rick Lowe, brother of late Hawke's Bay businessman Graeme Lowe, revealed he'd been another to transgress - his first ticket in three years, in a driving career dating back more than 50 years to about three tickets in the first week.
He also revealed a little background to the day's indiscretions, dating back just 24 hours, when he in his 1968 E-Type Jaguar and she in her Jaguar XF were "racing" from Tauranga to Gisborne, just the two Jags in the wilderness of the Waioeka Gorge.
Both have two cars in the rally, Mrs Treadell stepping into the work car today for the run on Wellington today, and Mr Lowe alternating drivers with his Mk I 1957 Jaguar, a model famed in the racing exploits of British great Mike Hawthorne.
For more articles from this region, go to Hawkes Bay Today