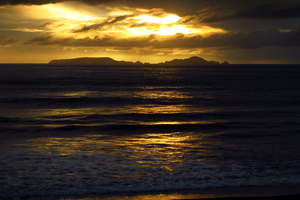 A disoriented fisherman in a leaky 3.5-metre boat motored for more than four hours in the dark, thinking he was headed for a lighthouse in the Bay of Islands, but instead arrived at the Poor Knights Islands, about 73km further south.
The man, in his late 50s, had no communications, lifejacket or flare and was dressed in a T-shirt, jeans and gumboots.
Only when he woke up and flagged down a passing launch on Sunday morning did he discover where he was.
The incident comes in the same week a massive marine search was sparked in the Far North when two ill-equipped fishermen were adrift at sea for 24 hours off Mangonui, after the motor failed on their small fishing boat.
Two coastguard vessels, a fixed wing plane, a helicopter and numerous police staff were involved in the successful search and rescue of the 72-year-old father and his 23-year-old son.
Police say in both cases the men were overdue, but had no way of telling people onshore where they were and could easily have met with tragedy.
Specialist search and rescue police staff are now pleading with Northland boaties to take some form of communication and safety gear when heading out on the water.
Constable Sue Grocott, incident controller for both rescues, said people needed to take personal responsibility when they ventured out on the sea.
"People are continuing to risk their lives out on the sea because they are ill prepared.
"With Mother Nature, you never know what she is going to do next. Just five minutes' worth of preparation before you leave could prevent these major searches," Ms Grocott said.
"It's basic safety stuff."
She urged wives and partners to ensure their men returned safely by ensuring they had communications and life jackets.
"These rescues cause so much anxiety for the families onshore."
For more articles from this region, go to Northern Advocate