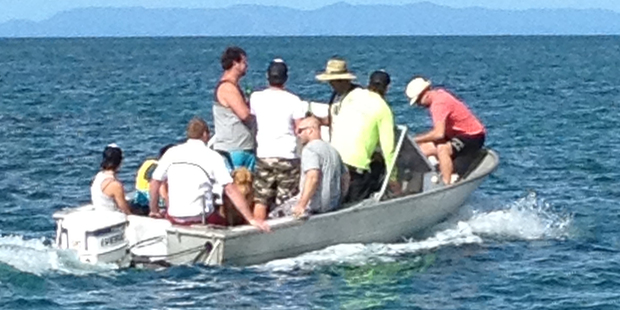 Seven adults, two children and a dog pile into a small dinghy.
It sounds like the start of a joke but it was in fact an accident waiting to happen on Auckland Harbour at the weekend.
Auckland yachtsman Gary Carruthers watched in shock as the overloaded boat motored past him between Station and Mullet bays on Saturday afternoon.
There was standing room only in the weighed-down vessel and the smallest child onboard was the only one wearing a life jacket.
Coastguard operations manager Ray Burge said it was dangerous to fill the small boat to capacity without everyone having a life jacket on their backs.
"That there is just silly. It really is a disaster waiting to happen," he said.
"Of course that's just stupid, and the interesting thing about it ... there's not a lot of them that looks like they've got a care in the world.
"It's just not responsible."
Mr Burge said although the weather was fine, it woudn't "take much for another larger vessel to come through and put up a wake and swamp that boat".
"The thing will fill up with water and within seconds it will be sinking," Mr Burge said.
"The only person who's got any chances of making it is the person with the life jacket on and the dog. I've seen a dog paddle for a long time but I haven't seen a person paddle for that long."
The frustration for Coastguard volunteers is there was nothing to suggest the boat's skipper was doing anything wrong, Mr Burge said.
There are recommendations that anyone in a boat smaller than 6m should wear life jackets but Mr Burge said there was no jurisdiction to enforce that.
"We've got no power to do anything in a situation like that," he said.
"The bottom line is responsibility.
"Whoever is the skipper on that boat is responsible for all those people. That's his legal obligation to make sure everybody's safe."
Mr Carruthers said he used his iPhone to take pictures of the "clowns" to highlight how unsafe some people were on the water.
"[The boat] came past us and mate, you wouldn't want to know what I thought," Mr Carruthers said.
"Have a look at where the motor is [in the water].
"They're lucky it's a fine day, I can't say anybody's life was in danger, but if a ferry had gone past and swamped them ... this is why you're getting so many water deaths."
Mr Carruthers, who has been an eager yachtsman for two decades, said he regularly saw overloaded boats and worried when the next tragedy would occur.
"It's just unbelievable," he said.
"With everything in the newspapers at the moment [warning people about water safety], and you see clowns like this.
"It's crazy. Absolutely ridiculous."
- APNZ