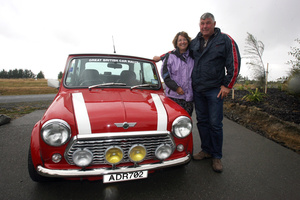 The Great British Car Rally arrived in Tauranga in style, led by Mayor Stuart Crosby in his predecessor's 1971 Bentley.
The rally - organised by the British High Commission as part of Queen Elizabeth's jubilee celebrations - involves a fleet of British cars travelling from Auckland to Christchurch.
The first leg was held yesterday, with a send-off by British High Commissioner Vicki Treadell at the Auckland Domain, and ending at the first stop-over point, Tauranga.
Mayor Crosby drove former Tauranga mayor Sir Bob Owens' 1971 Bentley, with Mr Owens' son - Bay of Plenty regional councillor Doug Owens - directing from the passenger seat.
"The car is quite famous, it was a real pleasure for me to drive it. We had a couple of hours meeting and greeting people at the Auckland Domain then the British High Commissioner, who I know is a car nut, spoke about the reasons for the rally.
It's been 15 years since the last rally happened, which also came to Tauranga," Mr Crosby said.
The rally had been "just great" and he was blown away by how many people had come to see the cars, many of whom were also watching the powerboats in the harbour.
"I'd estimate there would have been over 2,000 people. At least. It was great for the Waterfront and The Strand to be used in this way - this is how we want it to be used, to attract people into the city to experience ... that's what happened over the last two days with the powerboats and the rally."
Mr Crosby farewelled the drivers at 10am today for the second leg of the rally, through Whakatane and Opotiki to their stop over in Gisborne.
Bay of Plenty Jaguar Enthusiasts' Club vice-president John Broom, who drove his 1996 XJ-S 4.0 litre Jaguar in the rally, said he had seen some beautiful cars and enjoyed the way people were admiring each others' cars and sharing stories.
When the rally arrived in Tauranga, the whole place "came alive".
"The pubs and eating places would have done a roaring trade, so many cars came they couldn't all fit on The Strand. It was quite a spectacle."
For more articles from this region, go to Bay of Plenty Times