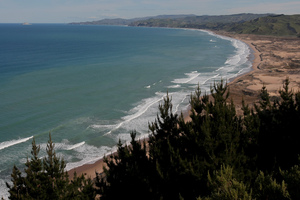 Five rookie lifeguards found themselves putting their training to use to rescue three people from deep water at the weekend.
The 13-year-olds were at Ocean Beach, north of Whangarei Harbour, for a training session and were watching the water after club captain Julian Pitman noticed some strong currents.
Two children and their mother were swimming between the flags but quickly found themselves sucked into a hole of deep water, Mr Pitman said.
Mr Pitman and other senior lifeguards supervised from the beach while the rookies performed the rescue.
"They did well, they worked together. It was great because I didn't have to get in there," Mr Pitman said.
Dylan Roxburgh, 13, said the group had been training 20 minutes before the incident, so he felt confident they knew what to do.
"We had just had tube rescue training. I took the 6-year-old boy and swam him in.
He stayed calm."
Dylan said his parents and his coaches were proud of him.
"I'm pretty happy about how it went for my first rescue," he said.
The rookies will graduate to begin lifeguard training when they turn 14.
Only 11 rescues have taken place at Ocean Beach during the summer.
This was the only incident there at the weekend.
For more articles from this region, go to Northern Advocate