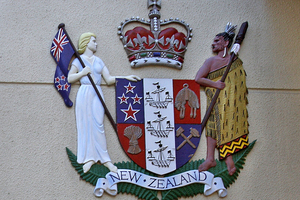 A Far North woman repeatedly denied in court that her partner drove up to their whanau farm to "sort out" a man who later slipped into unconsciousness and died from fatal injuries.
Rosemary Peterson said her partner, Gene Autrey Wright, was upset at troubles on their farm but he was not angry.
Wright, 32, is on trial in the High Court at Whangarei charged with the manslaughter of Sonny Werahiko Taylor on July 12, 2011.
The deceased, 53, and Wright's grandfather, John Wright, lived close to each other on a slice of multiple-owned Maori land at the end of Oturu Block Rd, north of Kaitaia, and there had been a dispute between the pair regarding buildings going up on the land. Police were called on July 10, 2011, after an argument between John Wright and Mr Taylor resulted in the latter taking a chainsaw to knock down an elevated food store.
John Wright, who struck Mr Taylor on the head with a rake, wanted him taken away by police but not arrested. Police decided not to arrest Mr Taylor after he claimed he owned the land.
At the opening of the case last week, Crown prosecutor Bernadette O'Connor said witnesses, including Gene Wright's brother, would describe how Wright kicked in the door of Mr Taylor's home on July 11, 2011, and went inside.
The witnesses then heard banging from inside the home and Mr Taylor calling for somebody to ring police, before Wright emerged, dragging Mr Taylor, then punching him forcefully several times in the head.
Wright propped Mr Taylor up against a wall then threw water on him to rouse him.
Mr Taylor slipped into unconsciousness and died in hospital on July 12, 2011.
Giving evidence as a defence witness, Ms Peterson said that on July 11, 2011, she received a call from Wright's aunt about troubles at the farm.
She discussed the issue with Wright and said they decided to head up to the farm the next day.
On arrival, Wright greeted his grandfather and two uncles while she made her way to a nearby house.
In cross examination, Ms O'Connor asked why the couple needed to go to the farm to check things out when police had been there earlier.
Ms Peterson said they went because the trouble involved family members.
On whether Wright said, "We will go and sort this **** out" before leaving for the farm, Ms Peterson said she could not remember.
Ms O'Connor said nowhere in her police statement did Ms Peterson mention about her partner greeting his relatives upon arrival. "The truth is Gene was pissed off and he wanted to sort him out," Ms O'Connor said.
John Wright told the jury how he hit Mr Taylor with a rake three times, causing its handle to break.
He said the land belonged to his grandmother and was his papakainga.
The trial continues today.