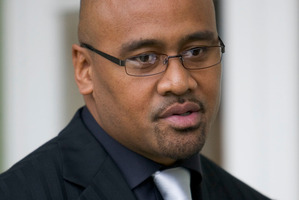 Jonah Lomu has lashed out after being surprised to hear he would be a guest speaker at a $100-a-head dinner at his former school.
The All Black great said organisers of the 170th Anniversary bash for Wesley College had "blatantly lied" by naming him as a guest speaker. Lomu said he hadn't been approached by anyone from the school.
On his Facebook page yesterday Lomu said: "I never was asked. I wasn't even consulted in any shape or form. I find this rude."
Jonah, who was in Auckland supporting children at the Kidney Kids charity camp, said he had to protect his image. "My name is what I make a living for me and my small family," he said, adding he would be calling his lawyer.
Wife and manager Nadene Lomu told the Herald on Sunday the couple was extremely disappointed.
"To find out he's the drawcard to sell the celebration tickets at $100 each with Jonah as guest speaker when he was never consulted, or myself for that matter, that's not right," she said.
Old students' association member Steven Tema yesterday apologised to Lomu.
"I misinterpreted some information and as it turns out I had my facts wrong. I have called and apologised to the Lomu family but understand the damage is done. I am really sorry for what has happened."
Nadene called for organisers to issue a wider apology: "Apologies, retraction and correction need to go out to all avenues of where the untrue invite has been sent to."