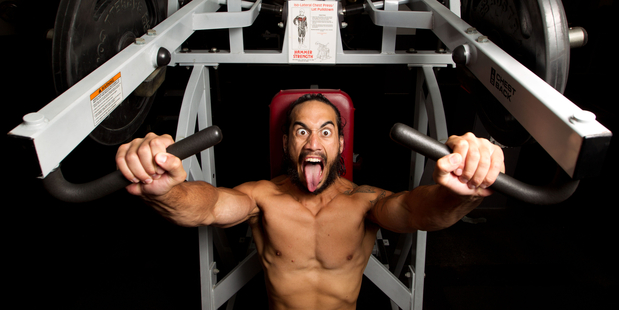 Judges expect to see more bulging muscles than ever in more performers at next week's national kapa haka championships in Rotorua.
The 41-team Te Matatini competition starts on Thursday, the first of three preliminary days before finals for the top nine groups on Sunday.
Gone are the days of the skinny Maori male on stage, jokes Professor Pou Temara who will be part of the panel of scorers marking six compulsory items. Instead, six-packs inspired by those sported two years ago by reigning champions Te Matarae i Orehu will be increasingly part of the performance, especially from other top teams.
"Of course you will see some big, fat Maori and they're never going on a diet. For me that's OK.
"I didn't see too many fat men in Whanau Apanui last time, there were a couple in Te Waka Huia. I expect to see more of the chiselled look, they're all vying for it, even for women there's a particular look."
Professor Temara, an academic at Waikato University, said he saw the lengths performers went to, to achieve.
"Some of these Matarae fellas I teach. I see them walking around with their lunches and it's the same as me and I'm trying to lose weight. It's chicken, the breast, no skin and sliced kumara. That's it. It's amazing."
Te Matarae's whakaeke or entrance song in 2011 set the tone for their whole performance - choreographically dynamic with high intensity moves it grabbed the judges' attention, but it bears remembering that the overall winners still didn't win that category and just pipped perennial favourites Te Waka Huia who weren't as frenetically mobile, Professor Temara said.
"For me it's about excellence."
Eruera Keepa, 25, is a Te Matarae member. Healthy living is a part of his life, but for the last four months he's been sticking to a specific plan. Part of it includes crossfit sessions, where he'll run for a kilometre, followed up by burpees, situps and pushups, a cycle which is repeated by successively decreasing runs plus the exercises, for 800 metres, 600 metres, down to 100 metres.
There's a method to it which helps his performance, he says. "With all that running and burpees and everything what you're trying to do is condition your body and muscles to react at the same intensity. I'm trying to train my muscles to recover faster in between the items.
"You want to give it your all. Our programme demands us to be fit to execute the choreography and moves. We have to be at the best of our ability and that's why we put focus on the fitness side of things because we want to do justice to the stories or whatever we're singing about. It's also because we believe that's how our toa [warriors] looked, our tupuna. They were fit, they were strong and you look at how battles were done in the day - only the strong survived. We're trying to portray that as well."
Professor Temara had a final word for all performers who've clocked up sessions in gyms around the country: "Yes, they look good - but let's see if they can haka."

Haka watch
• 41 teams
• 1,640 performers
• 3 teams from Australia
• Starts Thursday