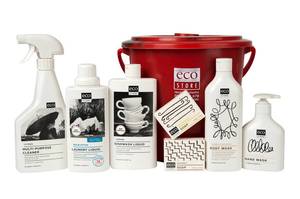 Two "green" cleaning product manufacturers have been warned that their anti-chemical claims risk breaching the Fair Trading Act.
Earthwise and Ecostore have both been cautioned by the Commerce Commission that declarations their products are "ammonia free" are in danger of breaching the act because competitors' products also do not contain those ingredients, Consumer magazine reported.
The commission released green marketing guidelines in 2008 which state that claims for the absence of a harmful chemical or damaging effect are unacceptable if other products do not contain that chemical or have that effect.
Ecostore was subjected to a lengthy investigation by the commission in 2011. In August last year, the watchdog concluded that the company's claims on its dishwashing tablets, laundry powder and cream cleanser risked breaching the act. It advertised those products as "nitrate free" and "ammonia free".
The commission considered it had enough evidence to bring court proceedings, but chose to issue only a warning, Consumer said.
About the same time the investigation began, Ecostore removed the relevant claims from its packaging and agreed the declarations were not relevant.
Ecostore chief executive Malcolm Rands said the firm had never used nitrate and ammonia, but it gave the unfair impression that their competitors still were.
"Also note that these were on the back label of only one product in small print as a list of eight nasty chemicals we won't use. The other 32 nasty chemicals we highlight on products across our range ... passed muster with the commission," he said.
Earthwise has yet to act on the warning.
The company was cautioned in December about claims its products were "phosphate free, nitrate free, chlorine free (and) ammonia free".
Earthwise Group director Jamie Peters said that after discussion with the Commerce Commission concerning the "phosphate free, nitrate free, chlorine free (and) ammonia free" statement, they were "working through options to clarify the wording to make sure it is not misleading to consumers".