Without the quick thinking and brave actions of a handful of Kiwi youngsters over the last few months, lives would have been lost and families devastated. Today, the Weekend Herald looks at those teenage heroes, and why they risked their lives to save others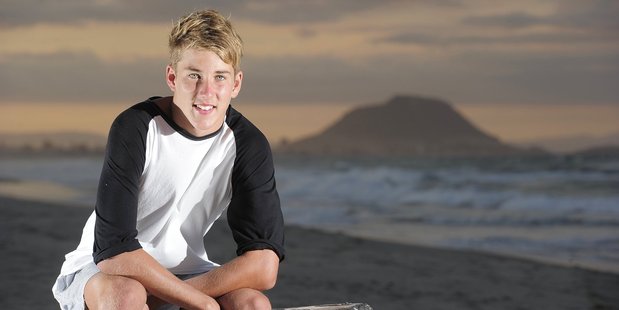 Josh Jarvis isn't expecting any recognition for swimming out in a rip in big swells to save a man who was moments from drowning, and says he would do it all again.
The 15-year-old Mt Maunganui College student and Omanu Surf Lifesaving club member was at Omanu Beach on Tuesday waiting for training with his good mate Fletcher Swann when a young boy ran up, saying a man was in trouble in the surf.
Josh got his bronze surf lifesaving award two years ago but despite patrolling the beach near Tauranga a couple of times a week, had never been involved in a full-on rescue.
The pair couldn't see over the waves to where the struggling man was but jumped on their kneeboards and paddled about 70m out to sea where they found him barely afloat and struggling in a rip.
The man had a boogie board but had lost the strength to stay on it.
"He just kept falling off of it so I told him to get on my board and hold on to the handlebars in the front and I'd drag him in," said Josh.
"It was pretty hard going but Fletcher helped to keep the board straight when we were getting hit by the waves - it would have been way more difficult without him."
The trio eventually made it to the shallows where another club member helped the man to their first aid room, and gave him oxygen before he was taken to Tauranga Hospital.
Josh said a consistent schedule of swimming since July last year had kept him fit and strong.
He said he didn't think too much about the consequences at the time but realises the danger he was in.
"I didn't think about it too much because the adrenalin was just surging and I was thinking 'I have to help him'."
"I don't think he would have held on too much longer without us there."
Josh and Fletcher's efforts are among a number of courageous rescues that young New Zealanders have been involved in over the summer.
Alongside racing into the surf to rescue swimmers, young people have been responsible for saving lives in other terrifying situations.
The Weekend Herald asked University of Auckland's director of clinical psychology training, Dr Ian Lambie, why young people seemed more likely to spring into action in emergencies than adults - often nearby - in the same situations.
He explained that the frontal lobe of the brain - which regulates decision-making - isn't always fully developed in some individuals until the age of 25, which could explain why these young people have taken big risks.
"But what we can say though is here it might be nothing to do with that. We just may have some young guys who see some guy in distress or in a crisis situation and they're thinking 'gosh I have to go and help them' and you have to admire them for having the guts and the fortitude to do it.
"Often we hear some groups saying adolescents are just a bunch of troublemakers but here we have some clearly law-abiding citizens who are helping people who are going to die if they don't help and they should be applauded."
Police National Headquarters search and rescue co-ordinator Senior Sergeant Bruce Johnston applauded the efforts of the young heroes.
"The quick-thinking and bravery displayed by a number of young people involved in water rescues this summer is to be commended."
Mr Johnston said while the rescuers deserved praise, others facing similar situations should take care.
"We do urge young people to exercise caution though and assess the situation before they act, by ensuring they know their own limits, without putting themselves in danger too," he said.

Ordinary people rising to the challenge to do extraordinary things
Lync Hetaraka, 10: When a gas stove exploded at his family home in West Auckland this week injuring his mother and brother, Lync was first on hand to help. As his uncle Willie tried to extinguish the fire, Lync helped his mum April and brother Dennis into the swimming pool and called emergency services.
Angus Bailey and Liam Robinson, both 14: The pair jumped into a river and saved an unconscious motorist whose head was underwater after he left the road in his ute and ended up in the Halswell River in Christchurch on February 11. They saw vehicle lights disappear down a bank and went to investigate. They didn't hesitate to leap in and pull out driver Andrew Tobeck, who was lying face down. Then they raised the alarm and emergency services arrived soon after. Mr Tobeck suffered only minor injuries.
Callum Williams, 15, Lucan Battison, 14, Nick Roydhouse, 17, Izaiah Lange, 15, Daniel Troy, 17, and his brother Kris, 15: The group of teenage boys spent an hour battling ferocious seas to pull three struggling swimmers to shore last month. The group were at Waipatiki Beach in Hawke Bay when they spotted the female swimmers in trouble. It took them 45 minutes in the strong current and waves to reach the trio who were just 250m from the beach. One was losing consciousness. The teens managed to get all three girls to shore.
Will White and Sergio Schuler, both 12: The cousins were swimming at Bowentown Beach near Waihi in December when they saw a man waving his arms about 100m offshore. The boys swam out to the 32-year-old Auckland man, who was yelling for help. They battled a 1.5m swell to get to the man and helped him to shore. The boys won official praise from police for their brave efforts.
Claude Stewart-Hudson, 18: The young Hastings man was hailed a hero in December after a split-second decision to jump a 3m-high fence, drag a sleeping man from his bed and extinguish a flaming frying pan. Claude was tidying his flat when he heard a smoke alarm going off at his neighbour's house. He went outside to have a look and saw flames, then raced into the house, which was full of smoke. Claude grabbed a burning pan and took it outside before going back to make sure no one was inside. He found his neighbour asleep and helped him out of the inferno.
Kya Watene, 16 and three friends from Hamilton's Sacred Heart Girls' College: The group saw an elderly woman come off her mobility scooter and plunge 20m down a bank into the Waikato River as they walked back to school from a PE class in October. Kya said the girls sprang into action to help the 58-year-old. They got to the woman, who could not breathe properly, and rang an ambulance. With the help of their teacher they put the woman in the recovery position and stayed with her until emergency services arrived.