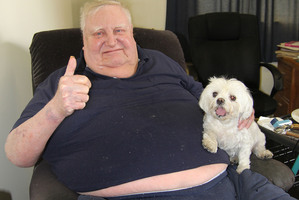 Stories making headlines across New Zealand at noon include Australians bad-mouthing our beetroot and how synthetic cannabis is still destroying families.
A Mosgiel woman whose 16 year old son was sold synthetic cannabis says the drug is destroying families.
Hawke's Bay beetroot growers have struck back at "bogus" claims from Australian millionaire Dick Smith.
Raymond Macaree had to be rescued by Wainoni firefighters after he fell out of bed about 2am on Monday.
A Tauranga gang leader convicted of the execution-style murder of his ex-girlfriend is to seek parole today
Hawke's Bay theatre producer Bruce Mactaggart's production Apollo 13: Mission Control is taking off in the United States.
At 20 years of age, Kayla Oliver has already fallen in love, said yes to marriage and had her heart broken by New Zealand immigration law.
Today is Angelman Syndrome Awareness Day and a One Tree Point family is urging everyone to don their wings.
The birth of three rare and yet-to-be-named Nepalese pandas has thrilled keepers at Hamilton Zoo.
The stench from Lake Wiritoa has been so horrific that it apparently stings your eyes.
Twenty lambs have been found gruesomely killed on a farm in Carterton.
Electric cars apparently won't be an affordable option for New Zealanders until 2020.
The asteroid about half the size of a rugby field which will have a close shave with Earth tomorrow astronomically speaking is not a threat to life as we know it.
Top trending topics on Twitter in NZ at noon were: #webstock, Happy Valentine's Day, Valentines Day, #skipbemyvalentine, #HalbergAwards, #Halbergs and #kickstart2013.
Other stories making headlines this morning:
Parole Board shows Iti 'some love'
$50,000 reward offered in Paeroa pizza man murder case
Descendant angry at unmarked grave
Bentley does it around New Zealand
Quake City tells our deadly story
Oamaru man makes Masterchef top 24
Topless car wash appeal
Two renew vows after 60 years