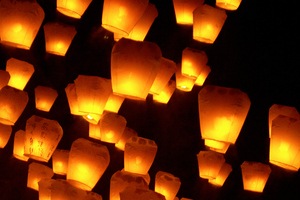 Chinese lanterns are prompting emergency callouts across Auckland after being mistaken for maritime flares.
The lanterns are generally made of rice paper with a small burner at the base. When the air is heated they rise into the sky, sometimes soaring hundreds of metres. They are particularly popular around Chinese New Year, which was on Sunday.
Sergeant Jason Homan of Orewa Police said emergency services Auckland-wide have been called out repeatedly to investigate flare sightings which turned out to be lanterns. He said they were common during periods of settled weather.
Each sighting ties up a significant number of emergency resources such as the Eagle helicopter and police launch section to investigate, Mr Homan said.
"We have to investigate these reports of flare sightings as it may well be a legitimate flare that has been set off and someone needs assistance. We would ask that people use common sense before setting these lanterns off into the sky."
The other risk involved is that people have no control where these lanterns end up and they can be a huge fire hazard should they land in the wrong place due to the fire burner underneath.
Mr Homan urged the public to report all suspected flare sightings rather than presuming they were Chinese lanterns.
- APNZ