Groser splashes out on Chinese dignitaries, Goodhew forks out for lion's share of staff Christmas lunch.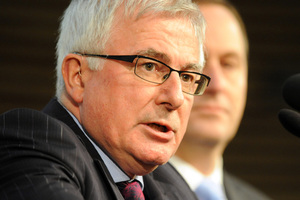 Government ministers' credit-card receipts have shown some have a generous streak: Trade Minister Tim Groser showered Chinese dignitaries with gifts from the taxpayer worth up to $500 each, while Jo Goodhew forked out $614 from her own pocket to shout her staff a Christmas lunch at posh Wellington eatery Shed 5.
The receipts for ministers' credit cards, released yesterday, include $2300 for gifts for Mr Groser's trip to China. That was spent at Te Papa Museum's store and was for seven gifts, including an alabaster blue tray ($519), a red lipstick bowl ($469), and a cast glass crucible ($499).
By comparison, Foreign Minister Murray McCully and Prime Minister John Key spent less than $200 on presents for their counterparts. Mr McCully's included an Icebreaker top ($190) for the Russian Foreign Minister. Mr Key's included a $197 gift for the President of the Philippines.
A spokeswoman for Mr Groser said she did not know who had received the specific gifts in China. She said the minister's office tended to spend more on gifts for his trips to Asia.
"When you are travelling to Asia it is a business custom to exchange gifts, so we do spend more."
At the other end of the scale, Ms Goodhew's receipts showed her credit card was used to pay $120 towards a $734.50 Christmas staff lunch for six at Wellington's Shed 5 restaurant - a spokeswoman said the Women's Affairs Minister had paid the rest herself.
Mr Groser is now campaigning to become head of the World Trade Organisation. His international travel costs, including staff expenses, came to $137,000 in the last quarter of 2012.
Mr McCully was next, on $97,000 and Justice Minister Judith Collins racked up $72,600. The Prime Minister's international travel came to $36,000.
Dinners were another regular feature on the ministerial credit cards - including a $1750 dinner Mr Groser shouted for the Canadian Trade Minister and nine other guests at Hippopotamus Restaurant in Wellington in May.
Attorney-General Chris Finlayson shouted his British counterpart to a feast at the Rideau Club in Ottawa, costing $1270 for six people.
MPs' domestic expenses for the last quarter of 2012, including accommodation and travel, were also released yesterday. Mr Key cost the most - $77,789 - followed closely by Maori Party co-leader Pita Sharples at $63,566.
Of non-minister MPs, Mana Party leader Hone Harawira again topped the table - his expenses came to $33,682.
The cheapest MPs were Wellington-based Green Holly Walker ($3895) and National's Katrina Shanks ($4125).