Council apologises after woman told staff had no idea where her stillborn sibling was.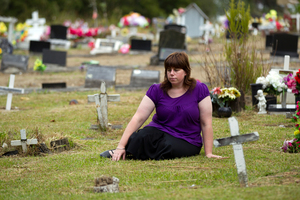 An Auckland woman is angry and disillusioned after Waikumete Cemetery staff wrongly told her they had no idea where her stillborn sister was buried.
The error has forced Auckland Council to apologise for its second blunder at the cemetery's stillborn sanctuary, after dozens of infants' graves were cleared using heavy machinery to remove unauthorised plot decorations earlier this month.
Brenna Innes said she was shocked when a staff member at the cemetery told her that her stillborn sister, Liadan Sharon Rose, might not be where she was believed buried in August 1985.
Ms Innes had gone to the cemetery last month to ask about putting a plaque at baby Liadan's grave - something the family had not been in a position to do at the time of her death.
But she was told the plot number for Liadan's grave did not mean she was actually buried there, and there was "no record of any stillborns" interred before the mid-1990s.
The only documentation the cemetery had was an index card which listed Liadan simply as "Baby Rose".
Ms Innes said the family had been sure of where Liadan was buried because decorations on two adjacent plots had dates that matched Liadan's death.
But cemetery staff told Ms Innes the other plot-holders were "just guessing" where their babies were buried, and their plot decorations were not permitted.
Ms Innes said she and her mother were devastated.
"They give you a plot number, you believe that your child's going to be there and then you find out years later that they lied."
Auckland Council's acting regional and specialist parks manager, Richard Hollier, said he was sincerely sorry for any distress caused by the miscommunication. He said Waikumete Cemetery had records of all interments, as required under the Burial and Cremation Act - including for all 797 infants buried at the stillborn sanctuary since its establishment in 1951.
Baby Liadan's details were recorded on an index card in 1985, and had since been entered into a database which could be publicly searched online.
- APNZ