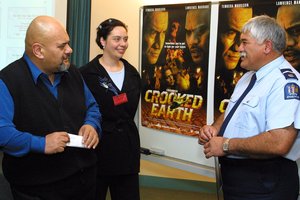 Tributes are flowing following the death of a respected Northland police officer.
Sergeant Patrick (Paddy) William Whiu, 62, died peacefully at home at Waipapa with family at his side on Sunday morning, after a short illness.
Police Commissioner Peter Marshall said yesterday New Zealand Police "has lost a mighty totara".
On Waitangi Day, the commissioner had presented Mr Whiu with a Silver Merit Award, the highest police honour for performance of duties.
Mr Whiu served in the police for 41 years, graduating in 1973 to a posting in Whangarei, and went in 1985 to Kaeo as the sole charge officer. He was Northland's first iwi liaison officer and later facilitated the liaison officer training courses at the Royal New Zealand Police College.
In 2001, Mr Whiu received a Queen's Service Medal (QSM) for public services and in 2004 was honoured with a Commissioner's Commendation for his role in the foreshore and seabed hikoi from Northland to the steps of Parliament.
Since 2007, he was integral in the Maori, Pacific and Ethnic Services (MPES) team at Police National Headquarters, and led training to build the Maori Wardens' effectiveness and professionalism.
Last Thursday, Tai Tokerau MP Hone Harawira used his first speech in the House for 2013 to pay tribute to Mr Whiu, "the gentle, caring, smiling face" of the New Zealand police, who was then gravely ill at his home at Waipapa.
Mr Harawira told Parliament it was a rare occurrence for him to send best wishes to a policeman, but he suspected many others around the country would join him in wishing Mr Whiu all the best.
"Paddy has become the face of Maori policing and iwi liaison, the gentle, caring, and smiling face of a police force that is often mistrusted and sometimes reviled in Maori communities," he said. "Paddy has that unique ability to lower the heat through his simple good nature, kind words and warm humour. Kia kaha, my friend, we are all praying for you."
Yesterday, the Maori Party paid its respects to Mr Whiu (Ngapuhi, Ngati Tuera and Ngati Hinearo o Whanganui).
"He was a legend. He had a heart for the community and could operate at both a local and a national level. He truly was a people's man, and a people's cop," Maori Party co-leader Pita Sharples said.
Co-leader Tariana Turia said Mr Whiu would be remembered for his calming influence and his ability to work with all levels of the community.
Tributes on the Northern Advocate's Facebook page during Mr Whiu's last days include one from a reformed gang member: "Tena koe, my friend. As the years rolled on we put aside our differences and recognised the good in each other. Get well soon, Rangatira."
For more articles from this region, go to Northern Advocate