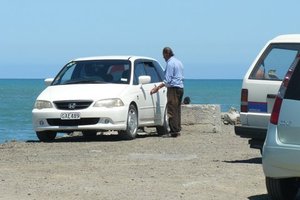 Broadcaster and Wanganui district councillor Michael Laws has posted a photograph on Twitter which he says shows paroled sex offender Stewart Murray Wilson at a fishing competition over the weekend.
Mr Laws loaded the image on to Twitter yesterday afternoon, and wrote: "Posting Stewart Murray Wilson supposedly under Corrections control @ fishing comp over weekend. NB: regis number."
But inquiries indicate he was at neither of two fishing competitions held in the region at the weekend.
Wilson said he did go fishing at the weekend but it was at the North Mole and not as part of any competition.
Waitotara Hotel Fishing Contest organiser Mary Martin said she processed all her competition's entries and put them into sections, and said there were no Wilsons among them.
Mrs Martin was shocked by Mr Laws' post and wanted it removed from Twitter as soon as possible.
She said the competition, held on Saturday, was for fishing done from the shoreline immediately north and south of Waiinu Beach.
She was at the weigh-in immediately after the fishing concluded at 2pm and didn't see anyone like Wilson.
On Sunday, the Castlecliff Club Fishing Adjunct held a Take a Kid Fishing event at Castlecliff Wharf, about 1km from the North Mole.
Participant Barry Hood, who took along his two grandchildren, said there was no sign of Wilson at the day.
Wilson was unaware of the Twitter post but was surprised to hear a photograph had been taken.
"Most people just leave us alone to do fishing," he said.
Mr Laws would not say whether he took the picture or if it was supplied.
For more articles from this region, go to Wanganui Chronicle