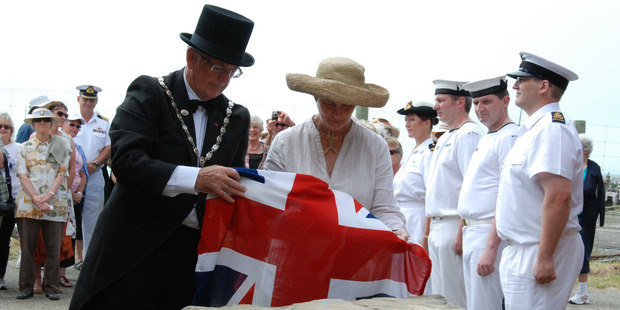 Stories making headlines across New Zealand at noon include an emotional reunion for the relatives of a great explorer, a five-year-old boy's delight at getting his scooter back and Waiharara School house gutted.
It has been an emotional few days in Oamaru for the descendants of Robert Falcon Scott.
A five-year-old Masterton boy is delighted his Christmas present, an MGP scooter, has been returned after it was stolen while he attended a holiday programme last month.
From the outside the Waiharara School house didn't look too badly damaged after fire ripped through it.
Boats of all sizes flocked to Lake Rotoiti this weekend to be part of the annual Parade of Classic and Wooden Boats.
Tauranga's hungry are getting a vital boost to their diets with the addition of milk powder in community food parcels.
A small coffin holding a magnum of Coruba signifies the last year of the famous Coruba fishing competition at the Hawke's Bay Sport Fishing Club.
Mill closure rumours are rife in Wairoa with the mothballed rail line possibly the final straw for Clyde Lumber.
The occupants of a utility vehicle which was crushed ''as flat as a pancake" after it plunged about 50m down a steep face near Lee Stream are lucky to be alive.
It cost $4000 to fly a "well-known Nelson climber" out of the South Westland bush, in what police say was an abuse of the system.
Top trending topics on Twitter in NZ at noon were: StrugglesOfBeingFromNewZealand, #skipfollowme, #MasterChefNZ, #USA7s, SNL, Happy Chinese New Year, Grammys, Skip and New Zealand
Other stories making headlines this morning:
Shock loss of endangered plovers
Refund drama puts woman off races
Confusion over Kenya mini bus crash reports
Motocross: Trials riders sweep podium
Napier man dies following assault
Spratt backs Guildford to return
-nzherald.co.nz