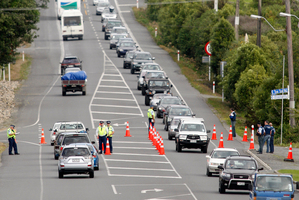 Scores of motorists have been arriving at AA offices to renew out-of-date licences, after the Herald on Sunday revealed last week that nearly 500,000 driving licences were expired.
Many drivers were unaware they were breaking the law. Now, they are making sure they are on the right side of the law.
Mike Noon, the AA's general manager of motoring, said customers renewing licences had told staff they had been prompted into action by the newspaper.
"We were very busy with driver licence transactions on Monday and Tuesday following your article," said Noon. "It has served to get people to look in their wallet and check the expiry date."
There were long queues to renew licences, he said.
Noon said 10 years was a long time between renewals and it was important to know when your licence would lapse.
Drivers who are caught behind the wheel with an expired licence risk a $400 fine and having their vehicle impounded.
They also put their vehicle insurance cover in jeopardy.