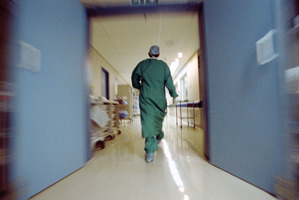 Children tug at a nation's heartstrings when they are ill. When one of them has a heart that is failing the tug is all the stronger. Little Laurel Giles was just a baby, seven months old, and she needed a transplant.
Her heart was three times its normal size. It was full of blood that it was too weak to pump. Her surgeon said she would have felt like someone running a marathon.
Not many children of her age die in circumstances that can lead to donor organs being available, certainly not in a population of New Zealand's size. So Laurel's parents were pinning their hopes on Australia where the Royal Children's Hospital in Melbourne has provided transplants for New Zealand children before.
It's not going to happen as, sadly, Laurel passed away on Friday night before anyone could find out if she was strong enough to adopt a new heart.
Her death has cast light on the little known problem of how to fund these types of operations. We do not transplant hearts into anyone weighing under 15kg here, but New Zealand's Ministry of Health puts aside a pool of money for high-cost treatment not normally available in the public health system.
Laurel could have been eligible for some of this. But it was not going to be a sure thing. The head of paediatric cardiac surgery at Starship told our reporter about five infants have been sent to Melbourne for transplants in the past 20 years and only two were successful. Each case can cost up to $1 million.
Custodians of public money have to put cost into their calculations and this does not set out to make villains of the decision-makers.
We should only hope they make their decisions as fast as possible, not leave the family hanging out in false hope.
Laurel's parents were about to launch a fund-raising campaign to put together the $500,000 needed to guarantee the operation was done.
We're sure New Zealanders would have responded in style. A donation would have been a gesture of sympathy and hope regardless of the likelihood of success. It would have endorsed the attitude of her parents, that any chance was worth taking.
It is hard to think of a better candidate than a baby, and hard to think of anything more remarkable in medical science than a tiny transplanted heart being able to grow with its recipient.
Laurel is gone, but we should not forget her. Special cases like hers demand a special effort. Remember that next time.