Peter Malcouronne meets the arrivals at Auckland Airport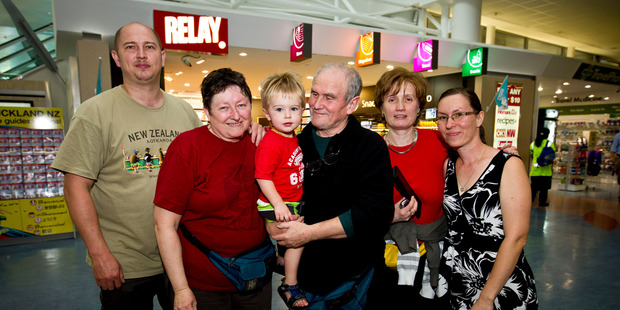 The little man - nippy, slippery and very, very fast - stops by a 5m statue of the Dwarf King and almost lets the big man catch him before he tears off again and hides behind a chrome pillar.
This game will go on for half an hour.
Poor Istvan Lauko. The 60-year-old from Budapest got a quick cuddle in at the start, but that's the only time he's held Mark Lauko. His first grandchild.
Istvan's son - Mark's father - Krisztian Lauko takes up the story. It starts seven years ago when his younger brother, Gergo, 30, saw an ad in Hungary for a baker in New Zealand. He's now a pastry chef in Queenstown.
Krisztian followed shortly after with wife Krisztina, now 32. These Laukos went to Waiheke Island, where Krisztian is head chef at the Waiheke Island Resort's Onetangi Function Centre. The wedding place.
But in truth, the story starts a decade earlier, back when Istvan and wife Istvanne started agitating for grandchildren. Krisztian: "They were always saying, 'hey, when you have a child, when you have a child?'." He laughs.
"And I say, 'hey, I will have, when we have!"'
Nevertheless, the elder Laukos got their wish 21 months ago. And every day since, they've Skyped their grandson. "Sometimes it's twice - morning and night, also," Krisztian adds.
The calls vary in length from 10 minutes to an hour to more. They don't always talk much - Mark's a doer, not a talker - and so the grandparents mostly just watch him. They watch his parents read him Hungarian storybooks, or just watch him play. His favourite toy?
"A dog," his father explains. "It's actually talking. You push the feet and the hands and it's talking very different things.
"It says 'Hi Mark'. 'What is your favourite colour, Mark?' Blue is the favourite colour. And the favourite food is the fruit."
He laughs again. He's an immensely likeable chap, Krisztian, and the only thing that disqualifies him from being the model new New Zealander is his indifference to rugby. However, Mark will certainly compensate.
"He's probably the good player because he don't like sharing his balls. He's all the time running and being the boss. Everybody is 'C'mon, share - play with this kid'. But he just laughs and runs off with the ball."
And he's an elusive runner, as the oldest Lauko is learning. Mark's grandmother, Istvanne, enjoys the show.
She's had her first cuddle. What was it like?
"Sue Bar," she says. Sue Bar?
Krisztian translates. "That's international word. Super."