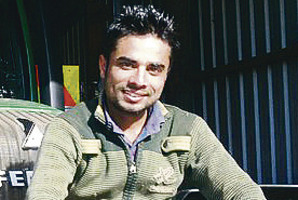 The coroner has confirmed a body found on Kaiti Beach last month is that of missing 22-year-old Amandeep Singh.
Mr Singh, an Indian national, was last seen leaving his Gladstone Rd home in Gisborne at 11pm on December 29.
His car was found abandoned in Dalton St in the suburb of Kaiti about 11am the next day.
He was reported missing on January 1.
The body was found in scrub on a section of Kaiti Beach Rd by people walking in the area on January 25.
The coroner has released his body to his family, following forensic confirmation of his identity.
Police said the family were making arrangements to return the body to India where his parents live.
"The family are grateful that the body can now be released and that they can make funeral arrangements which will bring some closure for them," police said in a statement.
The police homicide inquiry is continuing.
Anyone with information in relation Amandeep Singh's death is asked to contact the Gisborne Police station on 06 869 0200 or Crimestoppers on 0800 555 111.
- nzherald.co.nz