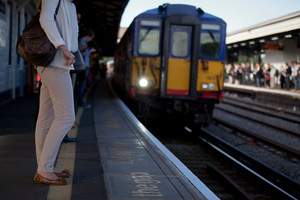 The man killed by a train in Christchurch last night has been named by police.
Muray Bruce Miller, 26, died when was he was struck by the train at the Lincoln Rd crossing in Christchurch about 10.15pm.
It is believed Mr Miller and a friend had been walking on Lincoln Rd towards Moorhouse Ave when he tried to cross the railway crossing despite lights and bells indicating the train was approaching, police said.
Mr Miller was struck by the front of the train and carried "some distance" down the railway line.
He was pronounced dead at the scene.
The death has been referred to the coroner.
KiwiRail is supporting the driver of a train which struck and killed Mr Miller.
Acting Inspector Paul Reeves said it appeared Mr Miller, a Christchurch local, had tried to cross the road or had failed to see the train.
He said the controlled barrier arm was working at the time.
"He hasn't adhered to the barrier arms being down and the lights going [and] it appears he tried to beat the train or he's failed to see it," Mr Reeves said.
The road was closed for about three hours last night while officers conducted a scene examination.
Police have also interviewed witnesses.
A spokeswoman for KiwiRail said it would have been a "very traumatic experience" for the driver.
He has been stood down for a minimum period of three days as a matter of procedure.
The driver will take as much time off as he needs, and will also be offered counselling, the spokeswoman said.
"Some of our drivers want to get back into work straight away - others seek a different approach," she said.
KiwiRail today urged people to always take care at level crossings.
- APNZ