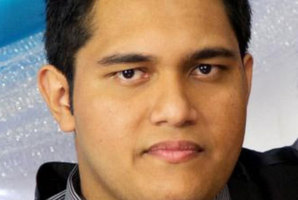 Information on why Shalvin Prasad may have been targeted will be released tomorrow, police say.
A funeral for the 21-year-old, whose scorched body was found in an Auckland scrub fire last week, was held in Manukau today.
His car and body were found on Thursday.
Police expect to have more information tomorrow "concerning a potential reason for Shalvin being targeted''.
Mourners at Mr Prasad's funeral, which was held at the Manukau Memorial Gardens, heard how the 21-year-old was an avid soccer player and enjoyed Bollywood music.
Players from his Manukau United soccer team lined the driveway to the chapel as his casket was escorted into the service by pallbearers.
The funeral was conducted in a mix of Hindi and English.
His brother Pravin Prasad told mourners, who spilled out into the chapel courtyard, of his kind-spirited and respectful baby brother.
"He would just light up the world - just like that.''
Pravin also spoke of how "innocent'' and "naive'' his brother was.
"What you saw is what you got.
"I know you've always looked up to me,'' Prasad said of his younger brother.
"I've always looked up to you.''
A member of the Manukau United Football Club recalled Mr Prasad's enthusiasm for the sport.
"It was very hard to score against him.
"We will really miss you.''
Mr Prasad, who first joined the club when he was eight-years-old, turned up every Sunday at 3pm for a game of soccer with his club mates and friends.
He would have turned 22 on Sunday.
Police believe Mr Prasad was killed by the scrub fire, and say an accelerant was used.
They have appealed to the public for information on two vehicles seen near the blaze on McRobbie Road in Kingseat on Thursday morning.
One vehicle was described as blue/silver in colour and the other one was white. Both left McRobbie road at high speeds about 6.30am and carried on straight through the intersection into Kingseat Road. They were travelling in the Pukekohe direction.
CCTV footage from local businesses is also being sought.
Anyone with information should call police on 09 2950311 or Crimestoppers on 0800 555 111.
- APNZ