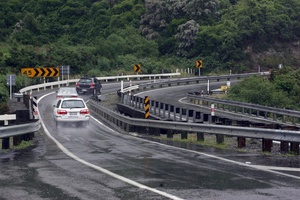 Nearly $1 million is to be spent on extra improvements to the Rimutaka Hill Rd, with 3.5km of guardrail being constructed.
New Zealand Transport Agency contractors will extend the 1km of barriers erected early last year at the completion of major work on Muldoon's Corner.
Wellington state highways manager Rod James said the guardrails will be installed at seven sites on the Featherston side of the hill and six on the Upper Hutt side. To enable the work to be done, temporary speed restrictions and traffic control measures are in place.
"We ask drivers to stick to the speed limits and follow the directions of the road signs.
"This important work is likely to cause minor delays, so please allow a few extra minutes for your journey," he said.
Mr James said the NZTA is also soon to carry out work on resurfacing sections of the hill road to provide a safer, more skid-resistant road surface.
Over the next four months, the cost of the guardrail work is estimated at $916,000.
At this stage it is not intended to install solar LED lights on guardrails along the route to help motorists with night driving.
For more articles from this region, go to Wairarapa Times-Age