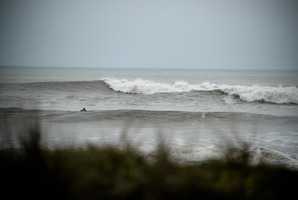 A man who braved dark surf to save teenagers swept away by a rip last night says he had "virtually given up" the rescue when he heard voices calling for help.
Pukekohe father-of-four Brendon Pooley spent almost 50 minutes in the surf at Kariotahi Beach near Waiuku after three teenagers, one aged 16 and two aged 17, were dragged out to sea during a twilight swim.
Mr Pooley was preparing to leave the beach with his wife and children when one of the teenagers ran up to him, desperate for help about 8.50pm.
"He was very scared. I think he was pretty terrified really because he'd been in the rip as well and managed to get out of it and lost his mate," Mr Pooley said.
"He said, 'Can you please call for help'.
"The sun had gone down. The first thing I thought is that's no use, there's no reception. If I go away now his friend probably would have drowned.
"The only thing to do is strip off and get out there."
While his wife Caroline drove up a hill to call emergency services, Mr Pooley took off his shirt and shoes, grabbed one of his children's bodyboards and ran into the water near where the worried teenager told him they had been swimming.
It was dark and Mr Pooley had to guess which direction the others had been swept out to.
"I could see the rip. The best thing is to get into the rip and that will take us out the back [of the surf break]," he said.
"I've heard that's the way surfers get out the back.
"I just started yelling out, 'Is there anyone out there?'
"It seemed like a long time. I heard someone yell out from the back of a wave and I was so thankful to hear someone because I'd virtually given up.
"I couldn't hear what they were saying, I knew it was the direction [away from the beach] so I just headed in that direction.''
Mr Pooley had gone into the surf believing there was only one person who needed rescuing.
"When I saw two heads in the water ... that worried me because I was only trying to rescue one and now there's two," he said.
"I was calm. I'm a firm believer in God and I'd been praying that I'd find this person and I found them."
He told the boys not to panic and to try to stay afloat.
One had cramps and so he clung to the body board.
"He was pretty happy to see it," Mr Pooley said.
One of the boys was able to swim back to shore while Mr Pooley paddled the second in on his bodyboard.
"He was on his last legs [and] I think he had swallowed some water," Mr Pooley said.
They arrived back on the sand almost 50 minutes after Mr Pooley first ran into the water.
"It was pretty emotional, really. He was pretty emotional that we could stand up and walk on the sand.
"My kids and wife were pretty thankful ... I think [my wife] had quite a bit of faith in me."
Mr Pooley has been praised for rushing to help the teenagers.
Constable Andy Shaw said Mr Pooley's actions were "particularly courageous given the conditions and the fact he had entered the water in darkness".
- APNZ