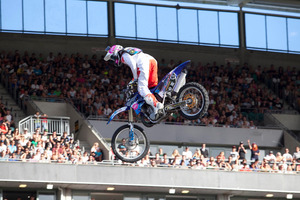 An extreme motocross rider performed with a broken jaw last night after being "king hit" while out on the town.
British-born Luke Smith, who lives in Stanmore Bay, is one of the few Kiwis to star in Nitro Circus Live, performing in Auckland last night.
Smith was with tour manager Derek Rigby and Australian rider Andy Buckworth on Thursday night when the group was attacked while getting kebabs in Fort St.
A few minutes later, members of the Nitro Cicrcus team were involved in a separate brawl which ended when a man they fought with was pepper-sprayed by police. The pepper-spraying was captured on mobile phone footage, and screened on 3 News.
In the first violent incident, Smith said he was "blind-sided". "I staggered away and he hit one of the other guys in the side of the head and then hit the other guy, he went on a free-for-all."
Smith was disappointed police didn't catch the attacker, and four security cameras in the street apparently missed the incident.
"The guy could have stabbed me and it wouldn't have been caught on camera, it's crazy for the main part of town," he said.
Meanwhile, a witness told 3 News two members of the Nitro Circus group bottled a member of the public and hit him in the head with a push scooter.
He said police pepper-sprayed the bleeding victim, handcuffed him and shoved him face-first into the road.
Nitro Circus promoter Michael Porra said the daredevils were frightened of walking down the street in Auckland.
"These are all wild tough guys and they are too afraid to walk down the street in Auckland," Porra said.
"It's a great shame for this wonderful city."
Last night Smith taped up his broken jaw, put in a mouthguard and joined the show, which performed to 21,000 at a packed North Harbour Stadium.
"This is my hometown and I want to compete in front of my family," Smith said.
The circus continues in Hamilton on Wednesday and Wellington on Saturday.