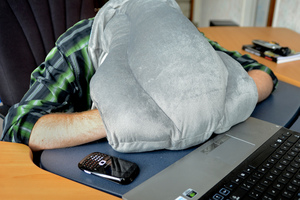 Can't stand your workmates? Hate public transport? Then a new invention now available in New Zealand could be your salvation.
The bizarre Ostrich Pillow, invented overseas, is designed to help fans of the powernap and is being imported by a 26-year-old entrepreneur and selling for $39.
Whangarei photocopier salesman Travis Honeybone was testing the product this week after importing the pillow from China. It resembles a huge, padded balaclava and was named after the myth about ostriches burying their heads in the sand.
Honeybone said the pillow was comfortable and also blocked out harsh light.
"Any angle you sleep on it still fits quite well to your head."
His girlfriend thought he was slightly crazy, and other feedback was mixed. "Mainly they say it's a great idea, but people couldn't see themselves wearing it because they're too focused on their image and it looks silly."
He said the pillow could suit migraine sufferers. "It's like putting a slipper on your foot, but on your head instead."