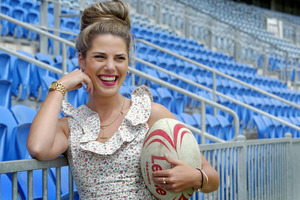 A revealing photo of a bikini-clad rugby administrator remains on a Northland rugby website despite an apology to the rugby union that asked the club to remove the "inappropriate" image and its suggestive caption.
The photo of Northland Rugby Union's new referee administrator Alanna Clare was taken from her Facebook profile and posted to the Kerikeri Rugby website with a story about her new role.
Along with the photo was the suggestive caption: "Northland Referees blowing their whistle prematurely in 2013 could spend time in the Sin Bin, if this is anything to go by!"
When the union became aware of the photo, it asked the website to remove it. The website's administrator complied and apologised to the union and Ms Clare.
But the photo has reappeared on the website - this time censored - after media publicity yesterday.
The website's administrator, who identified himself only as Murray, wrote that he had posted the censored photo because "people want to know what all the fuss is about".
"I remind people that are offended by a beautiful girl in a bikini: avert your eyes, avoid the beach, and confine yourselves to viewing the contents of your own miserable inbox."
- APNZ