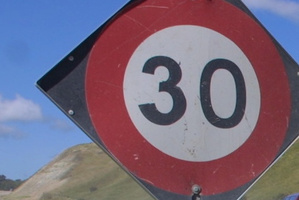 Two Argentinian tourists were bashed and robbed in a road rage incident in South Westland, a court has been told.
Kaylah-Maree Fern Terei, 20, of Hokitika is jointly charged with Cadyn Kirt Ryan, 22, of assaulting the tourists and robbing them of a laptop computer and US currency on June 24 last year.
Greymouth District Court was told that Terei was a passenger in a car driven by Ryan, who took exception to the driving of the tourists, stopped their car near Whataroa and attacked them.
The tourists had slowed to a speed of 30km/h on a stretch of roadworks when Ryan passed his vehicle.
Later, on the open road, the tourists passed him, enraging Ryan.
Both he and Terei threw punches at the visitors but Judge David Saunders accepted yesterday that Ryan had been the principal offender.
A victim impact from one of the tourists said she was very frightened and puzzled by the incident because they did not know what they had done wrong.
Terei, who is to give birth next month, has since disassociated with Ryan, who is yet to plead to the charges.
Judge Saunders, who bailed Terei for sentencing on March 7, said she could expect an electronically monitored sentence.