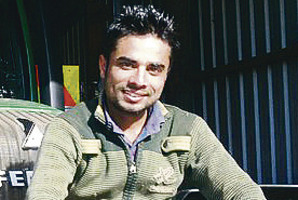 A body believed to be that of missing Indian man Amandeep Singh, 22 has been returned to Gisborne following a post-mortem but is yet to be released by the Coroner.
Police now say it could be weeks not days before they are able to complete the formal identification of the body found at Kaiti Beach near the city a week ago today.
Mr Singh's wife and sister-in-law are coming to Gisborne today or tomorrow from Tauranga, pending the release of the body.
Police confirmed the body has been returned to Gisborne following the post-mortem examination but it has not yet been released by the coroner.
Homicide inquiry head Detective Senior Sergeant Craig Scott says formal identification of the remains will have to be done forensically.
"There are no dental or other records of Mr Singh available in New Zealand and we have to obtain that material from his family in India.
"That process will take some time."
Det Snr Sgt Scott says the formal identification process is very important and has to be finished conclusively.
"It is not slowing the inquiry down," he says.
A dozen detectives from out of town are still in Gisborne to assist with the inquiry.
"Information from the public has been coming in and we are working through that."
Det Snr Sgt Scott says police hope people will keep coming forward with information.
A spokesman for the family of the dead man says Mr Singh's wife and sister-in-law are coming here as part of their grieving for him, and he hopes their privacy will be respected.
The public fundraising appeal for the family has now raised over $1000 since it opened on Tuesday.
- The Gisborne Herald