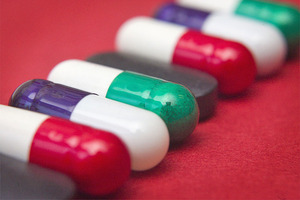 A coroner has recommended the Ministry of Health draw public attention to the dangers of taking excessive amounts of prescription drugs and mixing them with alcohol following the death of a woman in Palmerston last year.
Otago-Southland coroner Coroner David Crerar found Judith Ann Turner died at her home on February 3, 2012 of an overdose of codeine taken in conjunction with other prescribed drugs and alcohol, all of which created a depressant effect on her central nervous system.
Coroner Crerar said an ESR investigation into her death found the quantity of codeine taken created a level higher than the highest level previously recorded by ESR for a cause of death.
"Judith Turner, perhaps in a search for relief from her pain, has taken tablets, possibly failing to recognise their effects on her and possibly also forgetting that she had previously taken such tablets.
He ruled her death was accidental.
Mr Crerar said the circumstances of her death caused him "sufficient concern" to have them drawn to public attention.
He urged those taking medication to take it strictly as directed by the prescribing doctor.
"The dosage and the timing must be strictly complied with. Warnings given about mixing medication should be heeded.
"Those taking prescription drugs must recognise the combined effects of drugs, and the combined effects of the drugs plus alcohol, and limit their consumption of alcohol."
Mr Crerar recommended the Ministry of Health consider an enhancement to existing publicity programmes to draw public attention to the dangers of taking prescribed drugs in quantities which exceed prescription dosages, and of mixing prescribed drugs which have a central nervous system depressant effect, with alcohol.