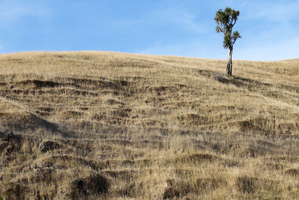 Climate scientist Jim Salinger has backtracked on a forecast that was going to see the mercury hitting 40 degrees for the next few days.
Instead parts of the country will reach temperatures between 30C and 35C, Dr Salinger said today.
"It will still be warm and will probably be the warmest period for the summer, but we're not going to be touching 40C,'' he said.
Yesterday, Dr Salinger said the conditions were ripe for the mercury to reach the high 30s and even 40s on the eastern side of New Zealand. The conditions this week were very similar to that of a heatwave.
Today he said "warmth models'' were predicting higher levels earlier in the week.
"If you look at the models now, they've narrowed (the temperatures) down and brought them back a bit. But we're still looking at healthy temperatures in the low to mid 30s.''
New Zealand's hottest recorded temperature is 42C in Rangiora on February 7, 1973, followed by 40.3C on February 6, 2011, in Timaru.
Auckland's hottest recorded temperature is 32.4 on February 12, 2009, at Whenuapai Air Base. It equalled the city's previous high, recorded in the Auckland Domain in February 137 years earlier, in 1872.
Hawkes Bay is on drought watch after receiving just half its normal January rainfall. December was also dry.
Ministry of Primary Industries' spokesman Stuart Anderson said an official drought would be declared when it had economic, environmental and social impacts on farming businesses, families and the wider community.
The warm, dry weather has proved a boon for vineyards and orchardists, and Otane grower Hugh Ritchie was philosophical about non-irrigated crops suffering.
"Last year we had just as many disasters with the wet weather, so it's swings and roundabouts,'' he said.
Data from the National Institute of Water and Atmospheric Research shows Kaitaia has had 4mm of rain compared to a normal 89mm for the month, Auckland 6mm compared to 61mm, Tauranga 4mm compared to 78mm, and Hamilton 11mm instead of 82mm.
MetService meteorologist Dan Corbett said the first bit of rain would not reach the country until Sunday.
"The next weather system that brings rain for most of us doesn't come until Sunday night into Monday. Monday, most of us start to see it.''
Fiordland would have a small amount of rain tomorrow but Mr Corbett said it would be a case of "you blink and you miss it''.
Otherwise, the conditions had been bone dry for most of the country.
- APNZ