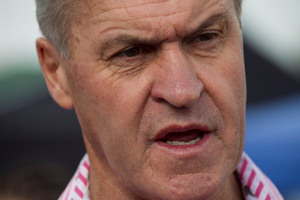 Prime Minister John Key is not concerned if opposition parties do not back National's nomination for Speaker of the House.
David Carter is expected to be elected as Speaker on Thursday to replace Lockwood Smith, who is to be the High Commissioner in London.
The Government's selection has angered Labour, which says it was not consulted over the decision.
Labour leader Mr Shearer said the party will delay a decision on how to vote over the Speakers' role to give National a chance to discuss it with them.
However Mr Key told TV3's Firstline he had spoken to Labour about the nomination. He said he had also consulted the Greens, who say they will not back Mr Carter.
"It's not my expectation that opposition parties will vote for him, I think it is more political than anything else," Mr Key said.
"We have the numbers so at the end of the day it's nice if the Parliament votes for the Speaker. We did have some discussions with Labour, despite what they say."
Mr Key said Mr Carter was a good choice for Speaker.
"He's had a stellar career in Parliament, he's been around for the better part of 18 years. I think he is seen as a very sensible, very sound member of Parliament. He's not overly antagonistic - I think he will make a good speaker, he will be cross that divide across the different political parties. That's one of the reasons we put him forward.
Mr Key rejected suggestions Mr Carter did not want the position.
"We wouldn't push someone in who didn't want to."
- nzherald.co.nz