Maoridom cannot sustain two political parties. United, they might turn a Labour run on the seats.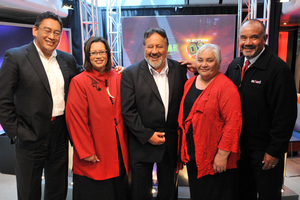 Maori political movements arise upon a huge up-welling of support around charismatic leaders in pursuit of a just cause. Tariana Turia and Pita Sharples were the twin pillars of that equation in 2004.
Such movements also have short lives. Original causes pass. Great leaders retire. Tribes prioritise local imperatives over national unities. Maori communities struggle to sustain such efforts, until the next great cause.
As with Pakeha, internecine battles erupt over meaningful issues of no consequence. And, the Crown ignores them, plays Maori off against each other or seduces the canoe of unity along the shallow waters of over-compromise upon which they founder.
The 1850s Kingitanga fell away after Crown threats at the 1860 Kohimarama Conference. Tribes decided to fight the Crown, fight for them or not fight at all.
The 1890s Kotahitanga Movement faded when Pakeha MPs, after walking out of the House at the first reading of the Native Rights Bill, returned to offer minimally autonomous boards and councils that eventually alienated significant tracts of Maori land to Pakeha.
The unity of the 1990s Maori Congress opposing the Fiscal Envelope declined when Tainui and Ngai Tahu decided to settle with the Crown. Mana Motuhake split itself asunder, one on each side, then imploded for reasons only the protagonists remember.
What future for the Maori Party? Retiring doyenne, Tariana Turia, wants a younger leadership to forge fresh direction; sensible thinking given the disappointments of the last three years.
Te Ururoa Flavell wants to be one of those leaders. So too Rahui Katene.
Others tout Kaapua Smith. Sharples is staying. Some suggest breaking the two-gender leadership to accommodate Flavell. Fatal: the mana wahine vote is too important.
The party will be wise to retain Sharples. Katene and Flavell are tireless, Smith highly intelligent, but none has the charisma of Turia or Sharples.
Sharples' presence may be the difference between survival and obliteration in 2014.
A possible compromise is Flavell as leader, with Sharples tagged as Minister of Maori Affairs if post-election arrangements allow. The assiduous Flavell would flourish in Health or Education.
There is talk about reunification with Mana. Sharples is open to a korero.
Maoridom cannot sustain two Maori parties. United, they might turn a Labour run on the seats.
Wolfish Hone Harawira has offered to lead the flock. Turia, Flavell and hit-man Pem Bird want none of that. The three were guilty of some reprehensible trickery in dealing to Harawira.
However, Harawira needs to bear some responsibility; at the last election he was every inch the dignified politician Turia always wished him to be.
A possible Labour-Greens coalition will include the party whether they need the numbers or not, bicultural liberals not wanting to be outdone by John Key.
However, partnership with Harawira could be difficult. The questioning conscience, he is by nature oppositional. Difficult to see him in a ministerial role; although Minister of Waitangi Day Celebrations has a certain ring.
The Maori Party is being heavily criticised; some is justified, most is not.
Matt McCarten (Herald on Sunday December 16), conveniently ignoring the impact of a world-wide recession, points out Maori are much worse off than before the agreement with National.
True, but without the Maori Party it could be much worse. Maori unemployment is half the level it reached in the wake of Labour Rogernomics.
McCarten paints Sharples as overly wedded to National.
However, Sharples has always been clear about working for Maori regardless of whoever forms government.
Chris Trotter (Dominion Post January 4) has levelled the extraordinarily Brash-like accusation that the party's fundamental flaw is being Maori.
Nonsense. The party stands for Maori human rights, not ethnicity, and in that way is no different to the parliamentary wing of Sinn Fein representing downtrodden Irish Catholics and the Scottish National Party now pushing for independence.
Contrary to what Trotter argues, indigenous and ethnic minority struggles for justice are more numerous in history than any others.
The left wing accuses the Maori Party of betraying the 80-year Ratana accord. David Shearer wants to re-claim the Maori seats. The fact is a majority of Maori favoured breaking with the apron strings of Labour because of a record of slow change, undermining 1980s Treaty claims, the foreshore betrayal and the underutilisation of Maori MPs subsumed within a Pakeha dominated caucus.
An external Maori partner may do more to liberate the talents of Shane Jones, Nanaia Mahuta and their colleagues than Shearer ever will.
Maori also supported going with National because we must work with all governments.
Sure, the Takutai Moana Act was an over-compromise and the Harawira ejection immensely damaging. With two seats already lost and the vote halved, the party may not survive the next election. But not because they are anaemic and dysfunctional as blogger Morgan Godfrey claims (Maui Street, January 24) but because the tide of history ebbs against them.
Harawira may be the only survivor of the 2008 National partnership in the next election, but more by fortune than foresight. Those who laud him over Turia and Sharples might reflect that he wanted to stay with the party.
The party deserves more respect. Together their MPs have given 150 years of service to Maori. Sharples and Turia are the best Maori politicians of our generation. They have made kaupapa Maori acceptable in mainstream. They probably saved the Maori seats by having them removed from the MMP referendum. The grossly underfunded Whanau Ora suite of programmes have established new principals in Maori community engagement a future left coalition can extrapolate. There is a useful Constitutional Review.
Turia is the best ever Maori MP on institutional racism - that most repellent of subjects for Pakeha. Her malefic critics say she will leave in shame. But, when Tariana walks into the sunset of her career she can do so with her head held high.
Rawiri Taonui is Professor of Indigenous Studies (Adjunct - AUT University).