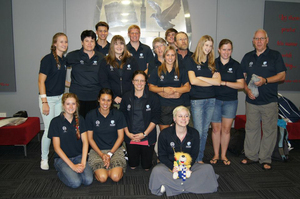 An 18-year-old man who was driving the minivan that crashed in Kenya, killing three New Zealanders, was told to keep quiet about a driver swap, Bethlehem College has revealed.
The college's board of trustees is launching an independent investigation into why former student David Fellows, 18, was driving the minivan when it crashed nearly two weeks ago, killing Brian and Grace Johnston, Caitlin Dickson, 19, and the college group's Kenyan driver Christopher Mmata.
Board chairman Greg Hollister-Jones said today the board had met and commissioned an independent investigation.
"We were very concerned to find that agreements had been made to have someone else driving the van. Our belief and expectations were that the local driver would be driving at all times during this and past visits. We want to understand why this was not the case on this trip. We also expect the Kenyan and perhaps the NZ authorities to look further into this matter.''
Bethlehem College Principal Eoin Crosbie said: "We are giving our support to David who is bearing a terrible burden at the moment. We have talked today to David and his family and they are supportive of making this announcement, and David again expressed his sympathies and apologies to the families.''
It is understood that Mr Fellows took responsibility for driving the minivan but Bethlehem College liaison representative in Kenya Calvine Ominde told him to keep quiet about the driver swap until after he had returned to New Zealand.
"We can only envisage that Calvine asked him to do that because his priority was to get the team members home and he didn't want a police investigation to inhibit that in any way,'' Mr Crosbie said.
The college had apologised to the affected families, acknowledging that there should never have been a driver swap.
"We are also very sad for the family of Christopher Mmata that he was originally attributed as the driver,'' Mr Crosbie said.
He said he learned of the driver swap only on Saturday after the Johnstons' funerals.
The information was verified on Sunday and the families were informed on Monday. New Zealand police and the Ministry of Foreign Affairs had also been informed.
The reason for the driver swap was unclear.
"It appears that on the relatively short journey from a nearby school to the village where they were staying there was a driver swap. This was prearranged between Christopher and David . After a few minutes of driving David lost control and the accident occurred. Those who remember the crash say there were no concern. He holds a full NZ licence,'' Mr Crosbie said.
It is understood Mr Fellows was not significantly injured in the crash and returned home to Tauranga with the first group last week He is believed to be currently in Tauranga.
Mr Crosbie said that further team members would arrive home this week.
Tauranga police said they received new information about the crash from the college yesterday and it would be forwarded to the Kenyan authorities through Interpol.
"New Zealand police will offer the Kenyan authorities any assistance which may be required for their investigation and we will await their further direction,'' a spokesperson said.
For more articles from this region, go to Bay of Plenty Times