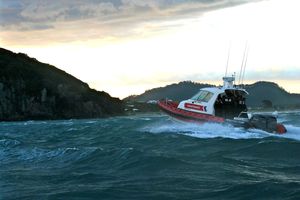 The search for a man still missing almost 24 hours after the boat he was in capsized in the inner Tauranga Harbour will continue into the evening when officials reassess their plan.
A freak wave is thought to have overturned the 4.3 metre boat between 5pm and 5.30pm last night, plunging five people into the water.
Four were rescued but a 52-year-old from Katikati remains unaccounted for.
A police helicopter, Coastguard and surf life saving vessels have been involved in an extensive search of the harbour this morning. Land Search and Rescue volunteers and Mine Rescue members conducted a shore search.
The submerged boat believed to have been carrying the group was found this morning.
The 52-year-old was in the boat with his 23-year-old daughter, 15-year-old son and a seven-year-old grandson. The fifth member of the party was a 14-year-old friend of the teenage boy.
Early reports that the boat was carrying four siblings were incorrect, police said.
The four survivors made it to shore on Matakana Island and flagged down a passing boat skippered by fisherman Warren Coffey. He took them to Waihi Beach where the alarm was raised about 8pm.
Coastguard spokesman Brian Grimwood said conditions when the boat capsized were moderate to rough.
Sergeant Warren Shaw from the Waikato Search and Rescue Unit said only the seven-year-old was wearing a life jacket, although there were others on the boat.