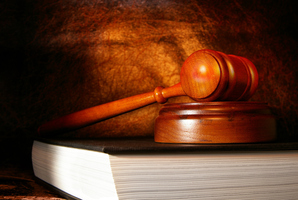 A Gisborne lawyer has admitted taking money paid by clients to his law firm and spending it on visiting a sick relative.
The lawyer was granted name suppression during his appearance at the Napier District Court today. He pleaded guilty to two charges of theft by a person in a special relationship.
The offending occurred over several months in 2011 and $1200 reparation is sought for the money which should have been received by the law firm.
An audit of the defendant's work files in September 2012 showed he was missing documents required as part of company procedure in 23 instances.
Further enquiries revealed he had personally taken two payments, one in cash and the other via internet banking, for services to two clients.
In a letter the lawyer later wrote to his boss he admitted the two instances of taking money that should have been paid to the firm.
When spoken to by police, he said he needed the money to travel to Hamilton to visit his sick mother who was undergoing treatment for cancer.
An application was made for a discharge without conviction and the case was adjourned until March.
For more articles from this region, go to Hawkes Bay Today