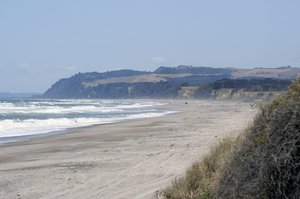 Mystery surrounds the death of a young fisherman whose body was found floating off Otamarakau beach on Sunday evening.
Police are trying to piece together how Bennett William James White, 26, of Te Puke, died while long-line fishing near Rogers Beach, between Pukehina and Otamarakau.
Western Bay road policing Sergeant Wayne Hunter told the Bay of Plenty Times Mr White had gone alone on a motorbike to check the long lines while his friends remained further down the beach.
"His friends had stayed at the other end, they weren't too far away and they could see the bike coming back towards them," Mr Hunter said. "One of them said he saw the bike's headlights go up in the air then after about 30 minutes, when he didn't turn up, they went looking for him."
Mr White's friends found his bike lying on its side below the high tide line.
They couldn't find their missing friend.
They phoned police who arrived at the beach and began searching for the young fisherman about 9.30pm.
Mr Hunter said there were about 20 people involved in the search, including police, Mr White's friends and locals.
Police, who were roaming the beach on a quad bike, found Mr White's body about 11.30pm. It had drifted about 2.5 kilometres away from where his bike was found. Mr Hunter said the cause of Mr White's death was unknown but it was likely he had crashed and the tide had taken his body out to sea.
High tide was at 8.30pm.
Maketu fire chief Shane Beech said a crew was called to respond to the incident but was stood down shortly before arriving at the beach. There was "quite a swell running" at the time, he said.
At Otamarakau beach yesterday, a life-long fisherman said he believed strong currents and powerful rips may have contributed to the fisherman's death.
Noel Ruebe said he and his 36-year-old son, Glenn, had been long-line fishing yesterday morning but conditions were too rough so they returned to their motorhome at the Otamarakau Sandpit Group campsite.
Mr Ruebe said when his wife went into the water to grab the kontiki on Monday morning, the strong undercurrent grabbed her and pulled her out.
"I was standing close by and was able to help her out but if she was alone it would be a different story," he said.
Glenn Ruebe said he had been fishing his whole life and the conditions at Otamarakau beach were extremely dangerous.
Mr Hunter said police were treating the incident as a crash but would know more by this afternoon, after a post-mortem was complete.
"Maybe it will be identified that he's drowned but until then we won't know," he said.
For more articles from this region, go to Bay of Plenty Times